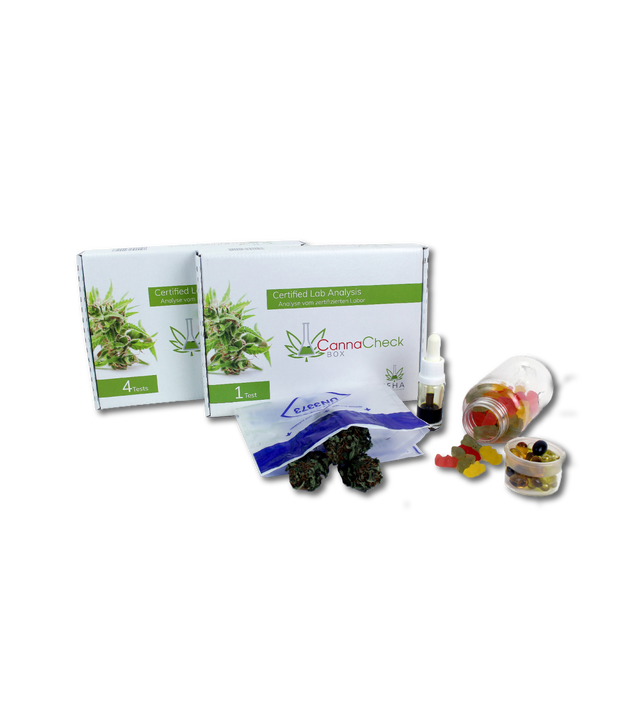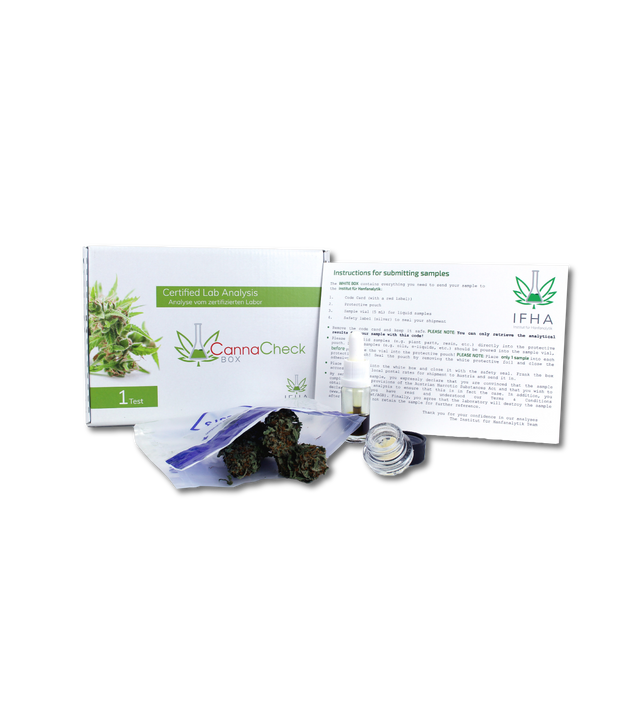 4er - Canna Check Box - hemp analysis
Hemp analytics for everyone
This gives you the opportunity to check the quality and legality of your plants. A service that was previously only available to large producers and retailers.
We determine the content of 10 different cannabinoids (CBD, CBDA, d8-THC) from parts of plants, oils, resins, isolates, e-liquids or similar , d9-THC, THCA, CBG, CBGA, CBC, CBN, THCV). If you buy one of our transport boxes for the price of an analysis in a specialist shop, you will find everything you need to send your sample to the
Institute for Hemp Analysis
and receive a certificate of analysis. After arrival in the laboratory, the
Institute for Hemp Analysis
analyzes your sample within 4 working days. Your certificate of analysis is then available online on the homepage. Completely anonymous if you wish.
Important, you can also send the analyzes individually to the laboratory. You don't have to send in all 4 samples together!
In the transport box you will find:
-> Instructions for sending in your sample
-> Transport box for shipping
-> Code card (with red sticker)
-> Protective bag, hermetically sealable
-> Sample container (5 ml) for liquid samples
-> Security label to seal your shipment
-> For anyone who wants to have more than just one sample analyzed, we have a transport box that is equipped for sending 4 samples. The following applies: 4 analyzes for the price of 3.
Please simply follow the enclosed instructions and you will receive a certificate of analysis for your private breeding.
Fast - results within 1 to 4 days after receipt of the sampleReliable - Calibration with certified reference material
(CBD, CBDA, d8-THC, d9-THC, THCA, CBG, CBGA, CBC, CBN, THCV)
Discreet - Your data will not passed on to third parties
Anonymous - As a sender you do not have to provide any personal data
Collection currently not available
Testimonials
the satisfaction of our customers is our success
Nowhere else can you find such beautiful purple and really tasty cbd flowers. It tastes just fine, even to me, and I'm a bit haglich, as they say 😉
Julia

Customer
Great shop, top products, friendly and competent. Worth a recommendation!! 🔥🔥🔥
Moe

Customer
Very pretty shop, run by competent and friendly operators whose products convinced me with their quality. I was surprised by the large selection that you can only find at SupHerb in Vienna.
Georg

Customer
CBD? DROPS? DELIVERY? RETURN? LEGAL? SUBSCRIPTION? CBD? DROPS? DELIVERY? RETURN? LEGAL? SUBSCRIPTION? CBD? DROPS? DELIVERY? RETURN? LEGAL? SUBSCRIPTION?
FAQ
Knowledge & Curation
Not only do we curate and sell premium cannabis, we have years of experience in the scientific and cultivation aspects of cannabinoids. We are happy to pass on this knowledge and help with any questions that arise about CBD.
Wholesomeness & Wellbeing
Money or profit have never been our motivation - our mission is to make the positive effects of CBD and cannabis accessible to everyone. We keep it simple: what drives us is the pursuit of the best possible products with the greatest benefit.
Trust & Quality
supHerb only sells selected and regularly quality-checked products. If you have any further questions about CBD and our products, we would be happy to advise you personally by phone, email or in the shop