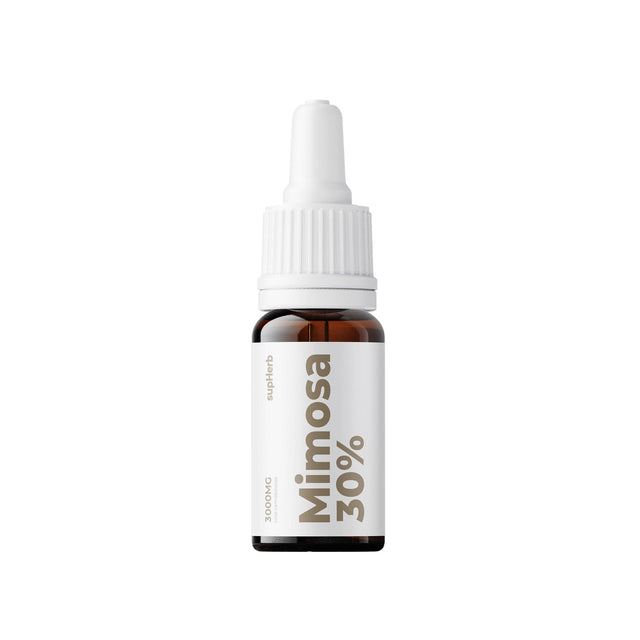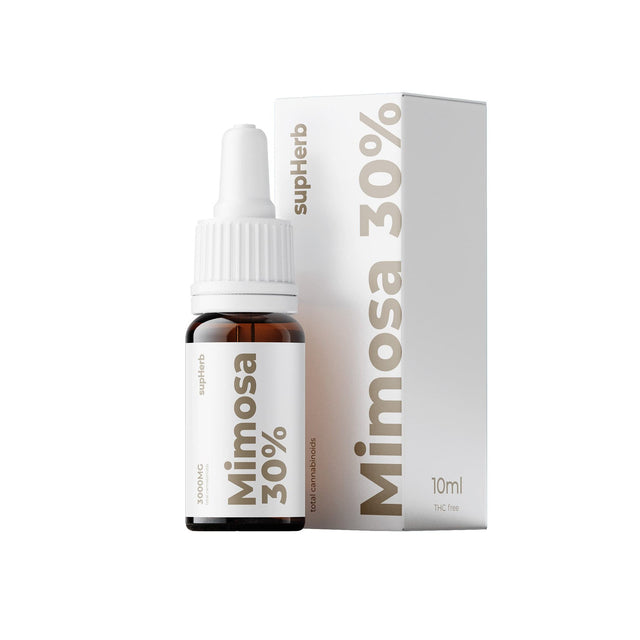 Mimosa Intense (30%)
€90,00 inkl. MwSt.
€120,00
Mimosa Intense CBG
CBG / Wholesome / Highgrade
Mimosa Intense CBG is supHerb's premium CBD/CBG oil with 30% CBD/CBG - carefully extracted from organically grown hemp. The CBD and CBG hemp plants used for Mimosa are neither fertilized with minerals nor treated with pesticides. And most importantly: they are not "washed". To put it simply: Mimosa is a 100% natural product and, with its calming effect, ensures more well-being in everyday life.

Mimosa Intense CBG taps into the power of CBG. Since CBG is more complex to extract - it occurs in much smaller amounts in the plant - most cannabis oils lack CBD's lesser-known cousin: CBG. CBG is one of the main cannabinoids in the cannabis plant and is an important complement to CBD as it helps to enhance the full effects of CBD.

We care about every detail and that's why we made a conscious effort to go for high quality Organic MCT oil, known for its higher bioavailability, was chosen as the main carrier oil. The highest possible quality standards in extraction have resulted in a clean product that has a clear color but still has the natural smell that plants contain terpenes.

Mimosa Intense CBG from supHerb is highly concentrated, for optimal effect is the right one dosage is crucial. Since all people have their own individual endocannabinoid system and react differently to substances, we advise listening to your own body and feeling what the right dosage is for you. 3 drops of Mimosa Intense CBG, 3 times a day with meals should be a guide to finding the right dosage for you. Simply drop the desired amount of our CBD oil under your tongue (from where it goes directly into the blood) and enjoy the benefits of Mimosa. If oil containing cannabinoids is swallowed, it may even be that the effect is completely absent, since the digestive tract is only able to absorb CBD to a limited extent. Incidentally, that is also the reason why supHerb does not offer CBD capsules.

There are at least 3000mg of cannabinoids in each 10ml bottle

Collection currently not available
Testimonials
the satisfaction of our customers is our success
Nowhere else can you find such beautiful purple and really tasty cbd flowers. It tastes just fine, even to me, and I'm a bit haglich, as they say 😉
Julia

Customer
Great shop, top products, friendly and competent. Worth a recommendation!! 🔥🔥🔥
Moe

Customer
Very pretty shop, run by competent and friendly operators whose products convinced me with their quality. I was surprised by the large selection that you can only find at SupHerb in Vienna.
Georg

Customer
CBD? DROPS? DELIVERY? RETURN? LEGAL? SUBSCRIPTION? CBD? DROPS? DELIVERY? RETURN? LEGAL? SUBSCRIPTION? CBD? DROPS? DELIVERY? RETURN? LEGAL? SUBSCRIPTION?
FAQ
Knowledge & Curation
Not only do we curate and sell premium cannabis, we have years of experience in the scientific and cultivation aspects of cannabinoids. We are happy to pass on this knowledge and help with any questions that arise about CBD.
Wholesomeness & Wellbeing
Money or profit have never been our motivation - our mission is to make the positive effects of CBD and cannabis accessible to everyone. We keep it simple: what drives us is the pursuit of the best possible products with the greatest benefit.
Trust & Quality
supHerb only sells selected and regularly quality-checked products. If you have any further questions about CBD and our products, we would be happy to advise you personally by phone, email or in the shop