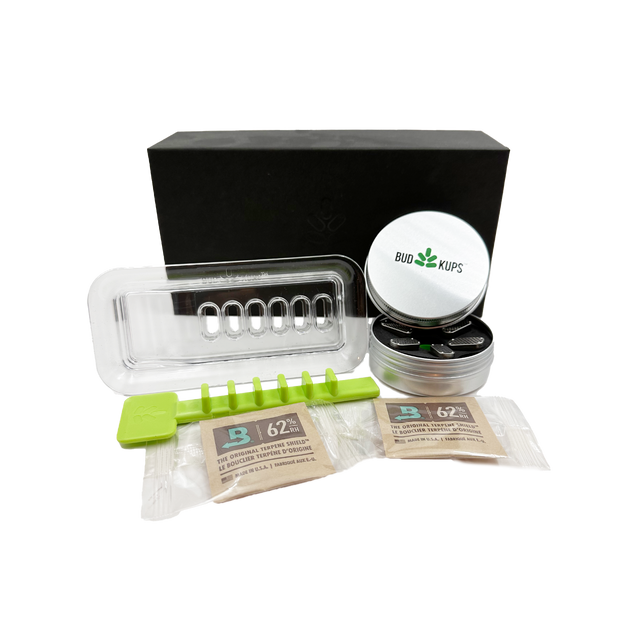 Budkups complete set
€60,00 inkl. MwSt.
€68,00
BudKup's set (complete)
Vaporizer reload pods and humidor / loading aid / Boveda bags

What's in the BudKups Set?
The complete BudKups set includes:
6x refillable BudKups reload pods
1x handy storage box (humidor) with space for up to 6 capsules
1x practical loading aid for even easier filling of the capsules
2x Boveda Bags for optimal storage
What is the BudKups Set used for?
The BudKups set is the ideal all-round carefree package for vape lovers and PAX users: With the reusable BudKups, filling the vape is now very easy and even on the go. The practical loading aid ensures that you can fill the capsules in no time. You then transport them in the handy humidor, which reduces odors and protects your capsules optimally. For the perfect storage of your BudKups in every situation, we add 2 Boveda Bags on top!
Who is the BudKups set for?
The complete set is perfect for vape fans and anyone who wants to use their PAX 2 or PAX 3 even more easily.
Collection currently not available
Testimonials
the satisfaction of our customers is our success
Nowhere else can you find such beautiful purple and really tasty cbd flowers. It tastes just fine, even to me, and I'm a bit haglich, as they say 😉
Julia

Customer
Great shop, top products, friendly and competent. Worth a recommendation!! 🔥🔥🔥
Moe

Customer
Very pretty shop, run by competent and friendly operators whose products convinced me with their quality. I was surprised by the large selection that you can only find at SupHerb in Vienna.
Georg

Customer
CBD? DROPS? DELIVERY? RETURN? LEGAL? SUBSCRIPTION? CBD? DROPS? DELIVERY? RETURN? LEGAL? SUBSCRIPTION? CBD? DROPS? DELIVERY? RETURN? LEGAL? SUBSCRIPTION?
FAQ
Knowledge & Curation
Not only do we curate and sell premium cannabis, we have years of experience in the scientific and cultivation aspects of cannabinoids. We are happy to pass on this knowledge and help with any questions that arise about CBD.
Wholesomeness & Wellbeing
Money or profit have never been our motivation - our mission is to make the positive effects of CBD and cannabis accessible to everyone. We keep it simple: what drives us is the pursuit of the best possible products with the greatest benefit.
Trust & Quality
supHerb only sells selected and regularly quality-checked products. If you have any further questions about CBD and our products, we would be happy to advise you personally by phone, email or in the shop