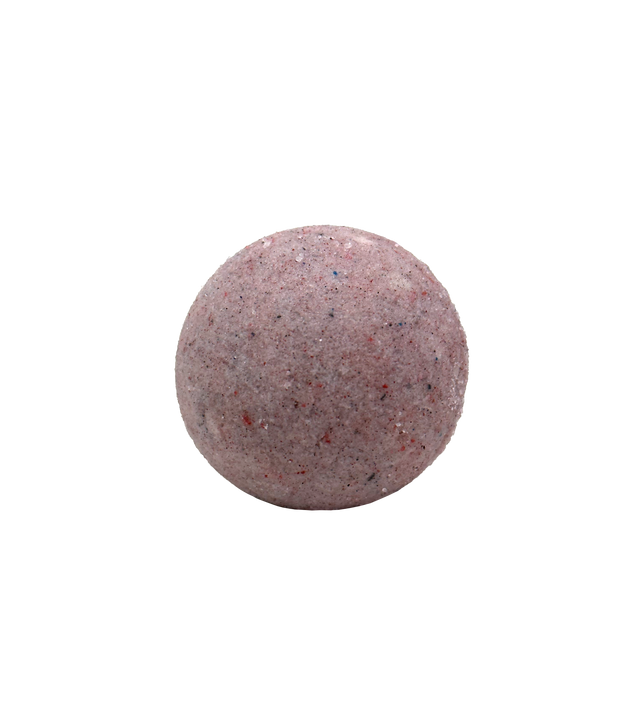 CBD Bade-BOOM-be
Bombastic bath additive / 1000mg CBD / CBD cosmetics

What is the supHerb CBD Bath BOOM-be?
You just want to dive and relax? Then a bath with our CBD Bade-BOOM-be is just the right thing. With our self-developed bath additive, your bathtub becomes a relaxation area: Let yourself be washed by aromatic lavender waves while the bath boom unfolds its beneficial effect. With 1000mg of CBD per bath bomb, it is not surprising that it provides bombastic relaxation.
What's in the supHerb CBD bath BOOM be?
Less is more. That's why the ingredients of the supHerb CBD Bade-BOOM-be are reduced to the essentials: coconut oil, baking soda, citric acid, starch, lavender essential oil, CBD, food colors (blue and red).
The supHerb Bade-Boom-Be is designed to provide maximum relaxation. As an aroma, we have therefore chosen lavender, which can help to relax, relieve stress and sleep better. Combined with the increased dose of 1000mg CBD per Bade-BOOM-be, it is probably one of the strongest CBD bath bombs in the world. Bubble away...
What else is there to know about the supHerb CBD Bade-BOOM-be?
The bath bombs should be stored in a cool and dry place until they are used. The relaxing bath bombs are only available in limited quantities. supHerb CBD Bade-BOOM-Ben are handmade in Vienna. By friends for friends.
Collection currently not available
Testimonials
the satisfaction of our customers is our success
Nowhere else can you find such beautiful purple and really tasty cbd flowers. It tastes just fine, even to me, and I'm a bit haglich, as they say 😉
Julia

Customer
Great shop, top products, friendly and competent. Worth a recommendation!! 🔥🔥🔥
Moe

Customer
Very pretty shop, run by competent and friendly operators whose products convinced me with their quality. I was surprised by the large selection that you can only find at SupHerb in Vienna.
Georg

Customer
CBD? DROPS? DELIVERY? RETURN? LEGAL? SUBSCRIPTION? CBD? DROPS? DELIVERY? RETURN? LEGAL? SUBSCRIPTION? CBD? DROPS? DELIVERY? RETURN? LEGAL? SUBSCRIPTION?
FAQ
Knowledge & Curation
Not only do we curate and sell premium cannabis, we have years of experience in the scientific and cultivation aspects of cannabinoids. We are happy to pass on this knowledge and help with any questions that arise about CBD.
Wholesomeness & Wellbeing
Money or profit have never been our motivation - our mission is to make the positive effects of CBD and cannabis accessible to everyone. We keep it simple: what drives us is the pursuit of the best possible products with the greatest benefit.
Trust & Quality
supHerb only sells selected and regularly quality-checked products. If you have any further questions about CBD and our products, we would be happy to advise you personally by phone, email or in the shop