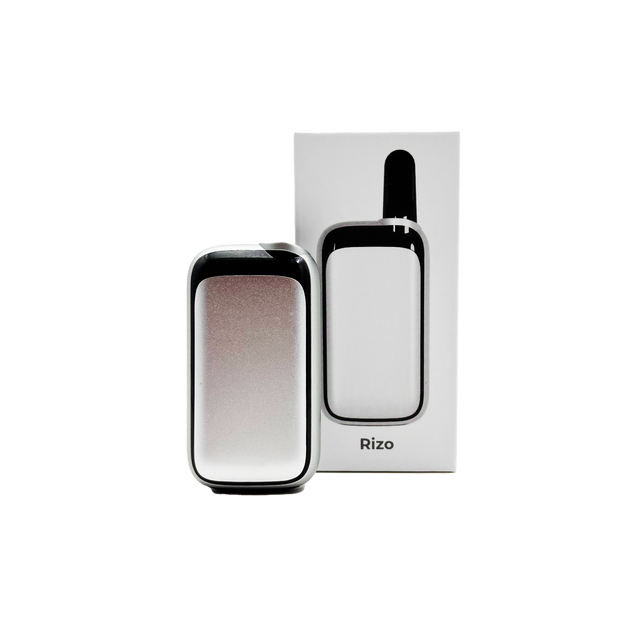 CCELL RIZO
Handy / full of power / for the palm of your hand

What is the CCELL RIZO?
RIZO is the very latest battery model from CCELL, which takes your vaping to a new level with its handiness and power.
What is the CCELL RIZO for and what makes it so good?
Insert cartridge and off you go: because with this battery you are always ready to go. The CCELL RIZO fits comfortably in your hand. Thanks to the dual-heat slide switch, you can quickly and easily switch between your preferred temperature settings. A slight vibration gives you haptic feedback when you breathe in - and ensures that several of your senses are activated at the same time. With a 3-bar LED display, you'll always know when it's time to recharge your CCELL RIZO - and with state-of-the-art Type-C charging, it's also particularly fast.
CCELL battery: What exactly is in the CCELL RIZO?
So that you know exactly what's in your CCELL RIZO, we've put together the most important facts about the battery for you at a glance:
Battery capacity: 300 mAh

Output voltage: 2.8V(L)-3.3V(H)

Dimensions: 62.7H x 34W x 14.8D (mm)

Materials: aluminum, zinc alloy, PC, silicone

Standard thread 510

Dual heat slide switch

Activation upon inhalation

Haptic Feedback

Drop-in magnet connection

3-bar LED display

Type-C charging

Available for customization
Collection currently not available
Testimonials
the satisfaction of our customers is our success
Nowhere else can you find such beautiful purple and really tasty cbd flowers. It tastes just fine, even to me, and I'm a bit haglich, as they say 😉
Julia

Customer
Great shop, top products, friendly and competent. Worth a recommendation!! 🔥🔥🔥
Moe

Customer
Very pretty shop, run by competent and friendly operators whose products convinced me with their quality. I was surprised by the large selection that you can only find at SupHerb in Vienna.
Georg

Customer
CBD? DROPS? DELIVERY? RETURN? LEGAL? SUBSCRIPTION? CBD? DROPS? DELIVERY? RETURN? LEGAL? SUBSCRIPTION? CBD? DROPS? DELIVERY? RETURN? LEGAL? SUBSCRIPTION?
FAQ
Knowledge & Curation
Not only do we curate and sell premium cannabis, we have years of experience in the scientific and cultivation aspects of cannabinoids. We are happy to pass on this knowledge and help with any questions that arise about CBD.
Wholesomeness & Wellbeing
Money or profit have never been our motivation - our mission is to make the positive effects of CBD and cannabis accessible to everyone. We keep it simple: what drives us is the pursuit of the best possible products with the greatest benefit.
Trust & Quality
supHerb only sells selected and regularly quality-checked products. If you have any further questions about CBD and our products, we would be happy to advise you personally by phone, email or in the shop