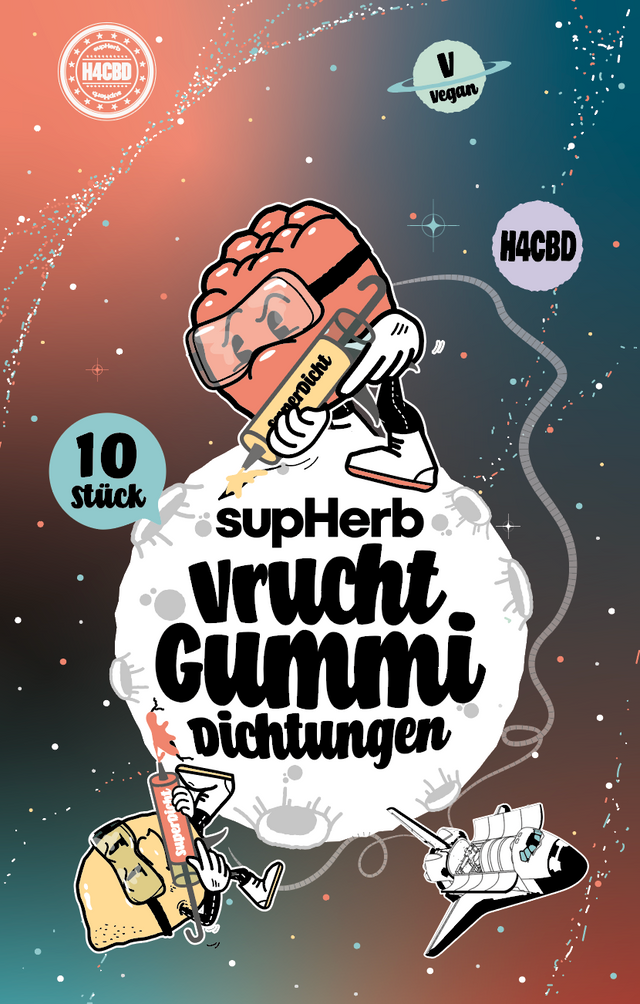 supHerb HHC Vrucht Gummy seals
Seals in 5 fruity varieties / Vegan

What are supHerb Vrucht Gummy Gaskets?
For sealing your leaks: These gummies are perfect for everyone who likes to seal up and promote creativity when writing poems together with your friends. If one seal is not enough, just use two! With three everything is guaranteed to be tight.
In which fragrances are the seals available?
So that not only the vibes are smooth when sealing but also the aroma, the supHerb Vrucht Gummy seals are available in 5 fruity scents: apple, strawberry, orange, lemon and blackberry. supHerb guarantees: The smell is just a poem!
How many seals are in one order?
You get about +/- 11 vegan Vrucht Gummy seals per pack: Two pieces of each flavor are included. We'll put a piece on top as a free gift.
We would like to expressly point out that the supHerb Vrucht Gummy Seals are not a food or dietary supplement and are not recommended for consumption.
Collection currently not available
Vrucht Gummy
Superdicht wie versprochen
sehr angenehme Aromen
Sehr angenehm
Konsistenz nicht für jeden. Trotzdem sehr zu empfehlen.
Fantastische Fruchtgummis
Fruchtig wuchtig diese frechen Früchtchen. Zartbesaiteten und Unerfahrenen würde ich erstmal zu einem halben Zitrönchen raten, meine Gemahlin hat temporär ihr Gesicht nicht mehr gespürt vor lauter Entspannung. Ich fands ganz fantastisch. Bitte weiter so, supherb! :)
supHerb Vrucht Gummy Dichtungen
Testimonials
the satisfaction of our customers is our success
Nowhere else can you find such beautiful purple and really tasty cbd flowers. It tastes just fine, even to me, and I'm a bit haglich, as they say 😉
Julia

Customer
Great shop, top products, friendly and competent. Worth a recommendation!! 🔥🔥🔥
Moe

Customer
Very pretty shop, run by competent and friendly operators whose products convinced me with their quality. I was surprised by the large selection that you can only find at SupHerb in Vienna.
Georg

Customer
CBD? DROPS? DELIVERY? RETURN? LEGAL? SUBSCRIPTION? CBD? DROPS? DELIVERY? RETURN? LEGAL? SUBSCRIPTION? CBD? DROPS? DELIVERY? RETURN? LEGAL? SUBSCRIPTION?
FAQ
Knowledge & Curation
Not only do we curate and sell premium cannabis, we have years of experience in the scientific and cultivation aspects of cannabinoids. We are happy to pass on this knowledge and help with any questions that arise about CBD.
Wholesomeness & Wellbeing
Money or profit have never been our motivation - our mission is to make the positive effects of CBD and cannabis accessible to everyone. We keep it simple: what drives us is the pursuit of the best possible products with the greatest benefit.
Trust & Quality
supHerb only sells selected and regularly quality-checked products. If you have any further questions about CBD and our products, we would be happy to advise you personally by phone, email or in the shop